Quad Bikes vs UTV Buggies: The Ultimate Safety Comparison
Feburary 8, 2021
Nothing is more important on your worksite than safety.
But with quad bike fatalities doubling in 2020 compared to the previous year, a focus on safety has led many Australian businesses to reduce their ATV fleets, whether owned or hired.
With rollovers causing the majority of ATV injuries, many businesses are left with no option in terms of transport and logistics, especially when 4WDs or Utes are unable to cross difficult terrain or reach areas accessible only by quad bikes.
As with any aspect of your business, knowledge is power. While quad bikes pose a safety risk, the increased safety of Utility Terrain Vehicles (UTV) can help you unlock safety and savings on your next worksite.
At 1800BUGGIES we've broken down the safety features of quad bikes and UTVs so you can keep your team safe, and keep your worksite profitable.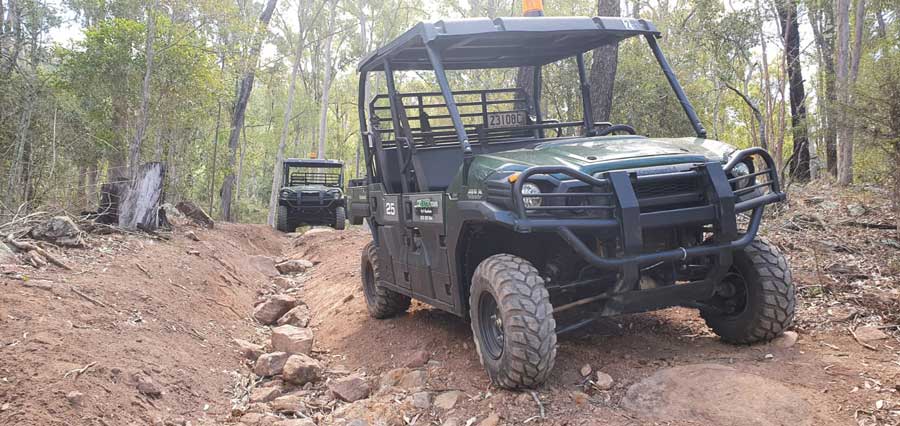 Roll Over Protection
While quad bikes are often chosen for their speed and agility, this comes with the deadly risk of rollovers. While the functionality is proven, a lack of crush protection devices (CPD) can lead to significant injury when a quad bike over balances. In fact, studies have shown rollovers lead to over 60% of all quad bike-related fatalities.
This has led the Australian Government to introduce mandatory rollover protection on all quad bikes by October 2021. As a result, 3 of the largest manufacturers of quad bikes - Honda, Polaris, and Yamaha - have signalled their intentions to cease distributing quad bikes in Australia citing impossible standards of safety.
For businesses who rely on quad bikes, this has the potential for crippling flow-on effects. If your fleet of vehicles is limited, your worksite suffers whether it's events, mining and construction, or government sectors.
In stark contrast, Utility Terrain Vehicles (UTVs) include Australian Standard Roll Over Protection Structures (R.O.P.S) to protect drivers and occupants. This is a crucial distinction, particularly when the quad bike market is shrinking. 1800BUGGIES range of UTVs include models with a lower centre of gravity to significantly minimise rollovers, with additional protection structures to keep occupants safe if the worst should happen.
For businesses who rely on quad bikes, this has the potential for crippling flow-on effects. If your fleet of vehicles is limited, your worksite suffers whether it's events, mining and construction, or government sectors.
Occupant Safety
Whether you're working on a mining contract or transporting people around an event, the need to move efficiently is at the heart of a productive site. While quad bikes are fast and nimble, they limit occupants to one - the driver. As most quad bikes are designed for one rider, adding any more is a recipe for disaster. In addition, quad bikes are typically designed without seatbelts which adds another risk factor.
In comparison, Utility Terrain Vehicles (UTVs) are designed to move multiple people without adding safety risks. Seat belts are standard in all UTVs with 2, 4 and 6-seater models available. This reduces the risk associated with your worksite and explodes productivity at the same time as you can move more people with more ease.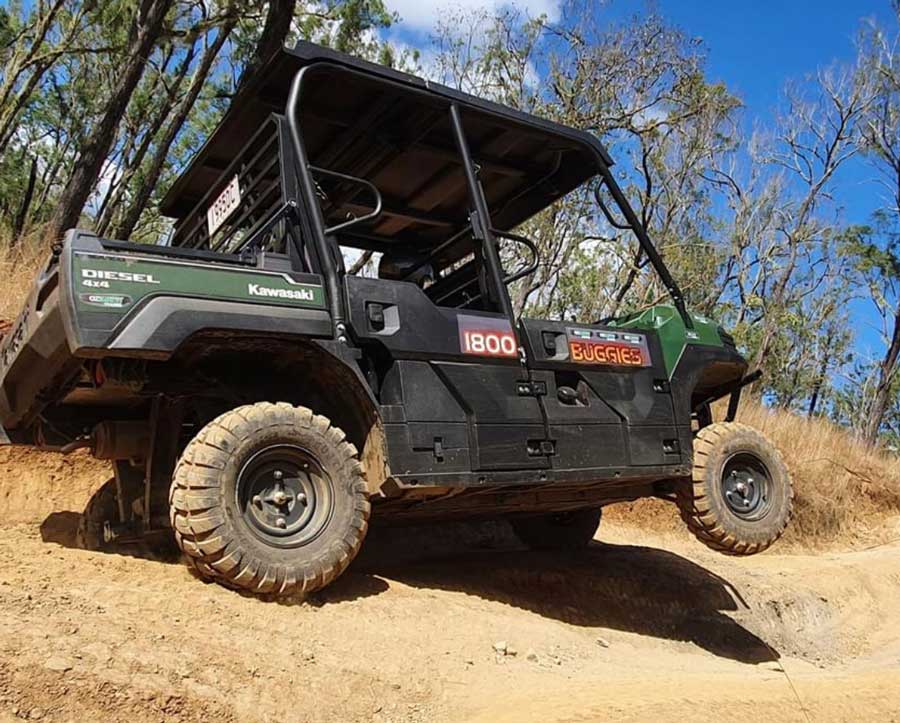 Impact on Physical Health
A lack of stability is one of the key design flaws of quad bikes. While there's no doubting the speed benefits, a quad bike rider is responsible for maintaining their balance to properly control the vehicle. This can lead to fatigue, back pain, and concentration issues as a result of sustained focus on handle bar control. While rollovers are responsible for the majority of ATV injuries and fatalities, a lapse in concentration after riding for an extended period of time may be a contributing factor.
In contrast, a Utility Terrain Vehicle (UTV) is designed with a truck-like cab and upright seating. This places less pressure on the back and on the driver's posture. Sitting upright is also complemented with the ease of driving, as UTVs mimic more traditional steering wheel vehicles. Over long hours this has a significant impact on physical health with less aches and pains - an especially useful benefit for older riders.
Cargo Safety
Quad bike rollover accidents are often caused as a result of drivers hauling cargo they're a) not willing to lose and b) not equipped to move. This creates problems for quad bikes with any added weight in the form of a trailer changing the behaviour of suspension and affecting the likelihood of a rollover. As quad bikes don't provide an effective built-in tray for transporting equipment, this leaves riders with the option of making multiple trips bringing small amounts, or risking a bulky trailer which can become a nightmare to maneuver on fragile or uneven ground.
Utility Terrain Vehicles (UTVs) offset this risk with a built-in versatility that's designed to transport cargo. Built-in trays are able to transport supplies, tools or equipment without impacting the vehicle's centre of gravity (COG). This ultimately leads to a more specialised approach to work. As a middle ground between 4-wheel quad bikes and large trucks, UTVs are capable of reaching all terrains while still moving your valuable cargo from point A to point B.
Quad Bikes vs Utility Terrain Vehicles: The Verdict
As the Australian Government continues to focus on the safety issues surrounding quad bikes, it's likely the availability of quad bikes for commercial sites will go down - making hiring costs go up. As Honda, Polaris, and Yamaha have all signalled their intent to cease local distribution, the safety issues surrounding quad bikes may see their extinction on Australian shores.
For work sites looking to maintain their productivity without putting their safety at risk, the Utility Terrain Vehicle is the middle ground. At 1800BUGGIES we've seen more and more industries moving from quad bikes to hired UTVs to take advantage of changing industry trends without driving up costs.

Our range of rental UTVs combine comfort, security and safety with design specs that solve the safety problems of quad bikes, while adding the power and comfort you need for tough work applications.

If you're in need of a UTV for your business, browse our range here.