6 Exciting Advantages of Electric Buggies [Sustainability, Speed, Savings and More]
July 23, 2021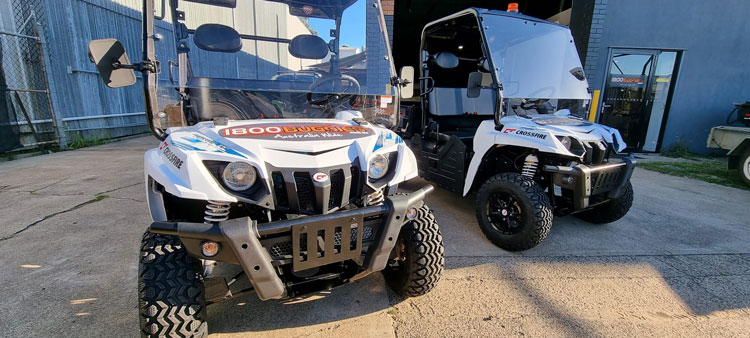 When you think of an electric vehicle (EV), what comes to mind?
There's a good chance you thought of 'Tesla', but the electric revolution isn't just happening across the commercial car industry.
Increased demand for 4x4 electric buggies is occurring across a range of industries, on the back of lower running costs, sustainability advantages and health benefits.
Up until recently, the only electric vehicles within the hire industry have been golf carts, which don't offer the power and maneuverability required on busy construction, mining, festival or government sites.
However, with the introduction of electric off road buggies, a new type of 4x4 utility vehicle is available with the power and torque to meet the needs of any event or work site.
Offering a range of exciting advantages across events, festivals, construction and government projects, the increasingly mainstream usage of electric off-road buggies is continuing to bring prices down across fuel and maintenance costs, leaving more money in your pocket.
But is there more to an electric buggy than just cost savings?
Read on to find out.
#1 - Significantly Lower Fuel Costs
OK, we said we'd cover the range of benefits that an electric utility vehicle brings, but how can you go past the potential savings?
Environmental benefits are a positive step forward (which we'll cover below), but when you're managing a work site or looking to get a festival up and running, you can't afford to let your overheads start bleeding out.
Going electric with your next buggy hire is advantageous as it can sharply reduce your fuel costs. In fact, the cost of electricity to charge an EV is roughly 40% less than the cost of petrol for the same sized vehicle.
You already know how frustrating it is fueling your fleet of buggies as a victim to fluctuating fuel prices. In contrast, an all-electric off road buggy is designed to maximise capacity and range with 100% electric power..
Not only is electricity cheaper than fossil-fuels, but electricity is also less prone to volatile market swings - so you don't need to worry about the availability of oil or the value of the Australian dollar. With electric ATVs in your arsenal, you can slash the cost of event and site transport without losing the mobility you depend on.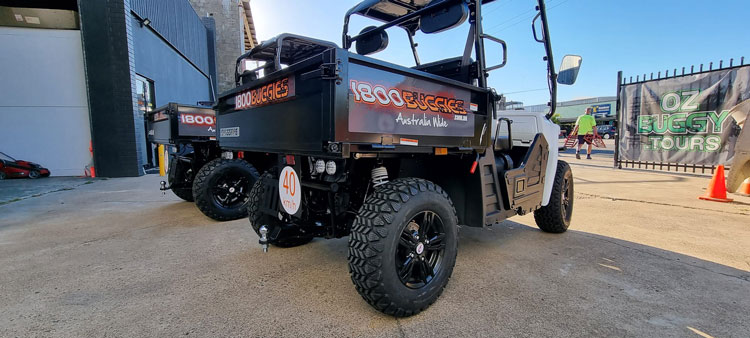 #2 - Zero Tailpipe Emissions
Electric buggies are battery electric vehicles (BEV) which means there's no need for a petrol, diesel, or LPG engine (or even an exhaust pipe).
This lack of fumes offers a striking environmental advantage over traditional buggies, giving event managers and organisers a truly sustainable option as events and festivals look to reduce their carbon footprint and become eco-friendly with 0% emissions.
This desire for cleaner vehicle hire aligns with major Australian festivals (e.g. Splendour In The Grass) landing on lists for the 10 most eco-friendly festivals in the world. It's clear that the local festival scene is looking for ways to put on their events with an eye towards sustainability - and with electric buggies this becomes easier.
#3 - Reduced Noise
Electric buggies offer complete mobility without the added noise that's synonymous with traditional internal combustion engines.
Imagine pressing your foot on the gas and hearing a faint hum from your electric motor, not an engine roaring into life. This reduction in sound is ideal for hospitality-based businesses who need fluid mobility without disturbing guests. Or, security companies and event managers who need to move around their site without disrupting guests.
While the environmental benefits of electric all-terrain vehicles often tend to steal the headlines, don't discount the benefits of a site that's accessible without causing a disturbance.
As an added bonus, studies have repeatedly shown noise pollution to have harmful effects on humans. However, the disruptive sounds of a buggy engine and its contribution to health challenges becomes a non-issue with the silent movement of a modern electric buggy.
#4 - Ideal for Indoor Use
Are you looking for a vehicle that offers advanced maneuverability for an indoor setting?
Traditional fuel-based buggies can be difficult to operate indoors with fumes and exhaust pollution creating a health risk. With an electric buggy you can forget about unhealthy fumes or filling your commercial space with pollutants.
This suits large commercial settings like factory floors, large resorts, or other large facilities that rely on fast indoor or underground transportation.
Wondering whether your needs are met in ATV rental or ownership? Click here to answer the rent vs. buy debate once and for all
#5 - Save on Maintenance Costs
No matter what site or event you're working on, you're looking to keep unnecessary overheads down.
With fewer internal moving parts, an electric buggy has fewer parts and pieces to wear down and break. Not only does this improve your onsite productivity (no one wants to deal with a fleet that's prone to breakdowns), but it slashes your maintenance and repair costs.
That means forgetting about oil changes, spark plug replacements, fuel filters, etc.
Over time, these reduced maintenance and repair costs can add up to significant savings for your company or event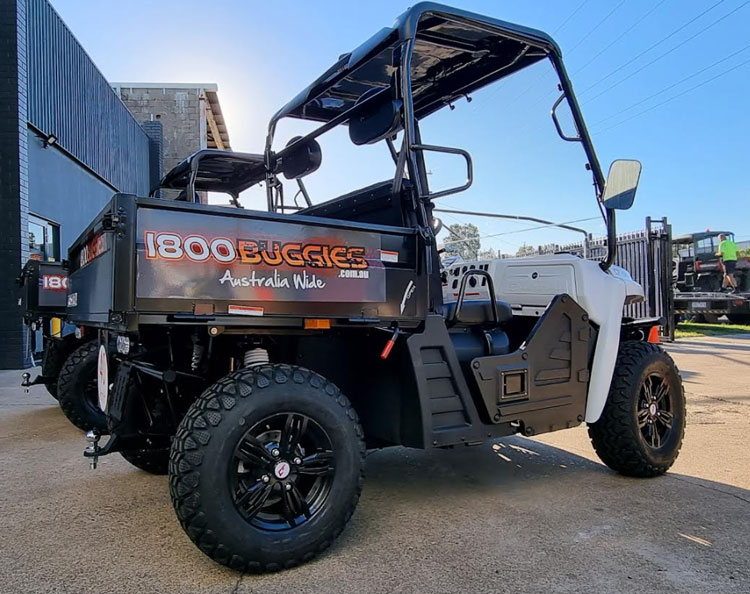 #6 - Improved Driving Experience
You may not associate an electric off road buggy as a performance machine, but don't discount the advantages of faster acceleration off the line.
Electric off road buggies produce maximum torque right from the word go.
There are literally hundreds of moving parts in a traditional internal combustion engine. In contrast, your hire electric buggy runs on a (comparatively) simple battery. A central rotor is turned by a surrounding magnetic field, powered by electricity.
Not only does this mean you access 100% of your vehicle's torque immediately, but the design of the motor means it can operate in reverse to charge your batteries when slowing the vehicle down (known as regenerative braking).
Full torque from 0 kilometres an hour means a powerful and explosive electric off road buggy that gets you where you need to go - and fast!
Looking to Give Your Next Event the Electric Buggy Advantage?
Electric buggies are surging in popularity as the sustainable and powerful alternative to traditional buggies powered by liquid fuels.
While the cost-cutting advantages steal the spotlight, there are a range of benefits to going green on your next off road buggy hire. From 0% emissions to quiet but powerful performance, low maintenance costs to 100% torque off the line, there's never been more reasons to hire an electric buggy.
Ready to put your own money-saving electric buggy to work? Contact a member of the 1800 BUGGIES team to learn more about our new all-electric ATV range.